This post may contain affiliate links, including Amazon Associate links. I may receive a small commission if you click on one at no extra cost to you and it helps to keep the site running.
Visiting Burghausen Castle was wonderful. I may not have heard of it before my visit but it was like walking into another era. My imagination was piqued:
With a claim to fame of being the longest castle in Europe, measuring in at an impressive 1043m long, and one of the longest castles in the world. And get this – it's located just over 110km east from Munich where I live. I was definitely remiss, but upon hearing about it I was there the next day!
Related Reading: Hohenzollern Castle: Why You Need To Visit This Majestic Castle
Where is Burghausen Castle?
You will find the castle in the town of Burghausen after which it is named. The town is located in Upper Bavaria near the Austrian border. The town lies on the Salzach river and the Wöhrsee lies in the town. Burghausen was once a trade city where salt was deposited. The salt was transported from modern-day Austria on the river. It was then taken overland from Burghausen.
The town is thought to be established in the 11th century but archeologists have since uncovered evidence that the area may have been inhabited much longer than that. Evidence was found that at one time or another, the Celts and the Romans were residents of the area.
Related Reading: Ludwigsburg Palace: Everything You Need To Know About This Tour
What is Burghausen Castle Famous For?
Not only is Burghausen Castle the longest castle in Europe, but it's also a magnificent example of a late medieval fortification that is mostly intact. That is pretty impressive when you consider that it dates back to 1025. And it was used by the Dukes of Lower Bavaria until the late Middle Ages.
In addition to being considered the strongest fortress in the country, it also served as a court for the duchesses and was home to their children, where they were also educated. Being so sturdy, it's not surprising that the castle was also where the Dukes kept their abundant stashes of gold and silver. Duke George the Rich wasn't called "rich" for nothing! The castle was also the home to widows from the ruling family.
Related Reading: 7 German Castles You Have To Visit In Southern Germany
What To See in Burghausen Castle
Despite being the longest castle in Europe, Burghausen Castle isn't all castle. It's connected by six courtyards, with the actual castle making up a relatively small part of the 1043m.
My favorite part of visiting Burghausen Castle were the views over the town of Burghausen – beautiful!
Related Reading: Top 24 Best Castles in Germany to Visit
Why Visit?
The State Castle Museum is OK, but I was expecting more from the longest castle in Europe. Only a small part of the castle is open to tourists. And compared to other castle tours it was just OK for me.  Having said that though, if you like art there is a large collection of huge Gothic panel paintings that illustrate the history of Bavaria. And entrance is only €4.50 for a self-guided tour.
Walking through this massive complex really does give you a feeling that you have walked back in time. Or at least a television period drama. If you have an active imagination and love history then this is probably a great place to let your imagination free.
If you love events that give you a glimpse into history you should visit when they have the Landshut Wedding. The event takes place every 4 years. It is the re-enactment of the wedding of Georg the Rich and his bride Hedwig. They are the most famous residents of the castle.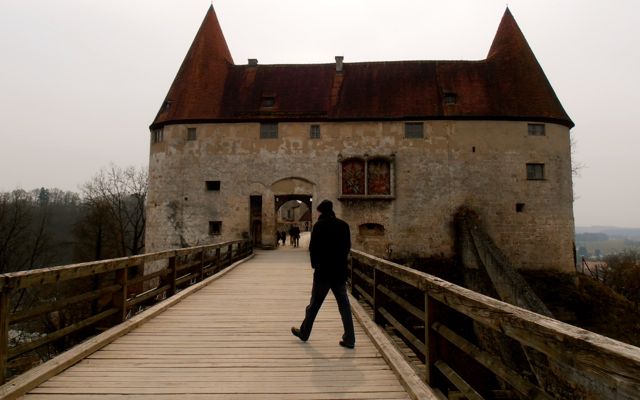 In summary, I would definitely recommend a visit to Burghausen Castle. It's a medieval architectural gem, unique in how long it is and very impressive – at least from the outside. Insider travel tip:  Go across the river for the best views of Burghausen Castle.  I have added it to my list of favorite castles in southern Germany. The town of Burghausen is also worth wandering around.  I especially enjoyed the colorful houses in downtown Burghausen.
Know Before You Go to Burghausen Castle:
The castle is open daily except on Shrove Tuesday, December 24, 25, 31 and January 1st.

It's open from 9:00 – 6:00pm April – September and from 10:00 – 4:00 October – March
It's free to walk around the castle.  A visit to the State Castle Museum costs €4.50 for a self-guided tour.
Children under 18 enter free.
You can reach the castle by public transportation.  It's just over a 2-hour train ride from Munich to the Burghausen main station. Then you take a local bus to the actual castle.  The cheapest way to go is by the Bavaria ticket, available for purchase at the ticket machines.
Driving to Burghausen Castle from Munich takes just over an hour (114km).
For further info visit the castle's homepage here.
Where to Stay in Burghausen Castle:
Hotel Garni Lindacher Hof is a 4-Star hotel located a 7-minute walk away from the castle. The hotel has a gym and a sauna that is open to all guests. The rooms are comfortable and highly rated.
Gartenhotel Salzach is located in a quiet area just 1km from Wöhrsee. There are a garden and a terrace that is open for guests to relax in. The hotel is well located for hiking and cycling.
Burghausen Castle is a perfect place to spend a day and enjoy the medieval atmosphere and the best views.